Location Obtained
Olympia, after taking Shogun (Quest)
Description
"Gladstone is an extremist who is threatening to attack the Guild if we do not suspend our operations in the Sanctuary; the nest of all anti-guild movements. Arrest him. He is somewhere in Saintspring."
How to Complete
Go to the spot 2 steps the bridge in
Saintspring
and head straight east (right).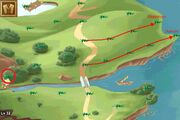 You will be attacked by Gladstone when you reach the shore. You know what to do then.
Note: You may notice Gladstone seems to be a step north from the spot where you find the target of the next quest - Duncan. Unfortunately it's not possible to jump from on spot to the other, the game forces you to take the path starting from the road. The cliff-face path to Duncan is separate from the one to Gladstone (see picture)
Gladstone has with him an Orochi, Deep Whale and a Chimera Ant all level 77 boosted to around 6,3-6,4k hitpoints (the whale has slightly less)
Reward
20 gold
Next Quest
Ad blocker interference detected!
Wikia is a free-to-use site that makes money from advertising. We have a modified experience for viewers using ad blockers

Wikia is not accessible if you've made further modifications. Remove the custom ad blocker rule(s) and the page will load as expected.