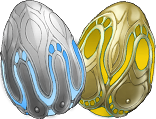 Eggs are special items that randomly give you various items or monsters. When you use an egg, a wheel will be spinned and you have to tap it to stop it. Whatever it lands on will be your reward.There are 3 different eggs: Egg, Golden Egg and Clone Egg.
How to Obtain
Win some Dragon Overlord fights (not all give eggs).
Type in a code from another player (hero level must be 1-5).
Win Tournament battles.
Buy one from the store with gold. 
Egg Content
Note: Egg content varies based on your hero level. Higher levels will have better available monsters to receive.
Until you have gotten all of them, the possibilities of monsters will only be of those you have yet to catch.  For the Egg it will only be of the monsters on the Usual Suspects list.
Ad blocker interference detected!
Wikia is a free-to-use site that makes money from advertising. We have a modified experience for viewers using ad blockers

Wikia is not accessible if you've made further modifications. Remove the custom ad blocker rule(s) and the page will load as expected.