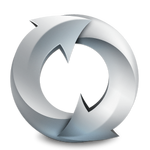 A list of all game updates, the newest on top. 
Check the facebook page for the game for posts from the developers.
Version 1.0.7 (February 15, 2013)
14 new monsters (Solaris, Don Penguini, Tortilla, Dreadnought, Behemoth, Morfeus, Sasquatch, Wendigo, Bon, Ifrit, Goemon, Doki, Asura, Snow Man).
All spirits are now obtainable as monsters that can be controlled.
Proper dungeon names displayed.
New battle backgrounds and a new monster list background.
Improved Black Market (Free Eggs, Items, Refer a Friend, Rewards sections).
Level 150 monsters no longer appear in Swinedene.
Warping back to a town or dying now directly takes you into the town instead of to the world map.
The Abyss (infinite dungeon) is now truly infinite.
Fafnir spawns on every 10th floor starting at 105 or 115 and drops a golden egg each time he is defeated.
Push notifications.
Version 1.0.3 (September 26, 2012)
Monster order can now be changed outside of towns.
New blinking outline shown for monsters never caught before.
Auto save game backup system added.
Version 1.0.2 (August 25, 2012)
Version 1.0.1 (August 15, 2012)
Version 1.0 (July 28, 2012)
Ad blocker interference detected!
Wikia is a free-to-use site that makes money from advertising. We have a modified experience for viewers using ad blockers

Wikia is not accessible if you've made further modifications. Remove the custom ad blocker rule(s) and the page will load as expected.