Golden Egg Codes are the codes you receive after going to the Black Market in a town. For every 10 people who use your code, you will receive a Golden Egg.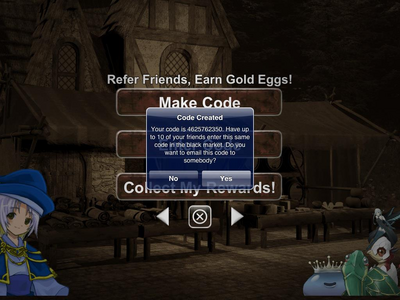 Function
The received golden egg can be used to get a Dragon Hatchlings and thus accomplish the task of Eggxactly.
Limitation
You can only use these codes if your hero is between levels 1 and 5, and you can only use one code total.
Post your codes
Feel free to post your codes below or in the forum. This allows people to type your code, while your codes will be entered by other players!
Ad blocker interference detected!
Wikia is a free-to-use site that makes money from advertising. We have a modified experience for viewers using ad blockers

Wikia is not accessible if you've made further modifications. Remove the custom ad blocker rule(s) and the page will load as expected.