The world map consists of 17 areas including Southern Alvalon, Northern Alvalon, Ringfeld, Forest of Mangal, Norwoods, Safaris, Greater Wesing, Western Gracia, Eastern Gracia, Wesburn, South Earlsome, North Earlsome, Swinedene, Underworld , Endergate, Saintspring and Applefield.
Overview
This is the world map of Dragon Island. There are 16 regions in total. It has a total of 260 spots, consisting of 240 regular spots (some spots have dragon overlords) , 8 city spots, and 12 cave/dungeon spots. Generally, most monsters are harmless in western part of island, while the most dangerous are usaully located at the eastern part of the island.
General Area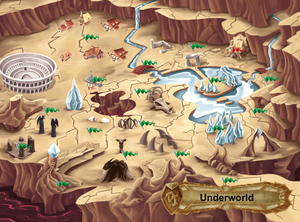 Cities
Dungeons
Ad blocker interference detected!
Wikia is a free-to-use site that makes money from advertising. We have a modified experience for viewers using ad blockers

Wikia is not accessible if you've made further modifications. Remove the custom ad blocker rule(s) and the page will load as expected.