Old Sage's Tower is a building at the north of Corova in Southern Alvalon. It is the home of a mysterious old sage and he will reward your a recipe of Dark Panther if you can prove your mastery over monsters.
Collection Quest
| Title | Description |
| --- | --- |
| Usual Suspects | To complete this quest you will need to capture all the monsters which are not the result of the result of a recipe, collection quest or spirit totem. You do not have to capture any monster which can ONLY come from an egg. |
| Recipe For Destruction | You must perform every recipe combination. |
| Eggxactly | Some monsters can hatch from eggs. You must get them all! |
| Collector | Be the master collector. Finish all the other collection quests. |
Reward
The first quest, Usual Suspect, will give you the Spikey. It is weak in attack but has a high HP, around 60 or 70, and it has 4 support skills and 1 attack skill.
The second quest will give you the Dark Panther. The dark panther is not strong, it is only as powerful as the Chimera Ant, but still needed for unlocking the last challenge.
Eggxactly gives Teddy. Teddy is more powerful than Spikey and Dark Panther. However, for this quest all monsters from eggs are needed, including the four dragons.
The fourth and last quest gives the Dawn Rider. The Dawn Rider has higher stats than Teddy and evolves into Night and Chaos Rider.
Remember that these monsters are only given out once so DO NOT convert them into soul stones!

--A Wikia Contributor 09:55, January 20, 2013 (redirect from here)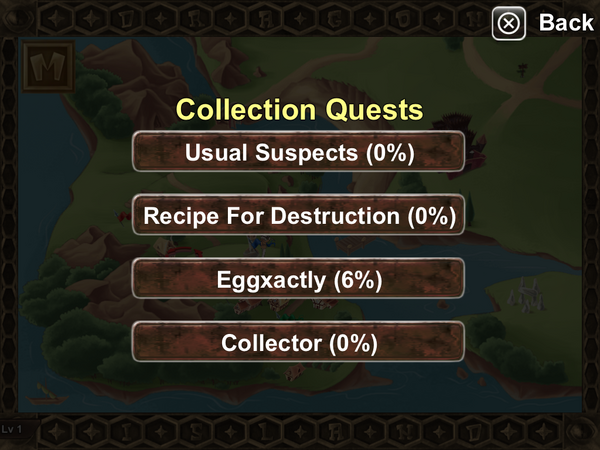 Ad blocker interference detected!
Wikia is a free-to-use site that makes money from advertising. We have a modified experience for viewers using ad blockers

Wikia is not accessible if you've made further modifications. Remove the custom ad blocker rule(s) and the page will load as expected.