How to Obtain
Evolve from Snow Cub at level 28.
Found in Saintspring (Forest), specifically at the spot shown in the thumbnail (if a Fire Tiger is one of the first three monsters, a Snow Panther is almost always present later on in the lineup).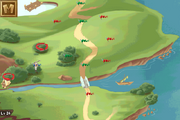 Found also at the lighthouse in Swinedene and in the Sanctuary.
Stats
| Level | 1 |
| --- | --- |
| HP | 44 |
| Attack | 23 |
| Magic | 23 |
| Speed | 59 |
| Defense | 32 |
| Resist | 32 |
Abilities
| Name | Time Units | Targets | Effect |
| --- | --- | --- | --- |
| Claw | 160 | One Foe | 30-37 Physical Damage (Water) |
| Freeze | 160 | One Foe | 30-37 Magical Damage (Water) |
| Charge | 160 | Self | Increases Attack by 1 |
| Blizzard | 130 | All Foes | 9-12 Magical Damage (Water) |
Evolution
| 1st Form | 2nd Form |
| --- | --- |
| | |
| Snow Cub | Snow Panther |
| Evolves at level 28 | - |
Recipes
| Fire Tiger | | Snow Panther | | Solaris |
| --- | --- | --- | --- | --- |
| | + | | = | |